Julie's training in Kyokushin Karate began in January, 2005. What began as a hobby for physical fitness very quickly turned into a Passion and subsequently has started a new life journey for Julie.
Julie is a Second Degree Black Belt and Instructor in the Banff Dojo, instructing and attending all classes.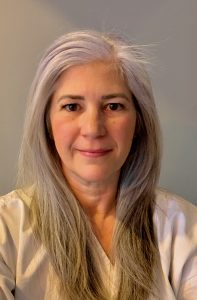 Julie stepped up in January 2008 and began teaching a Beginners  Karate Class. The kids ranged in age from 5 to 10 years old.  All were new to Kyokushin Karate and some due to age to any organized sports club as well.
Julie originally started training alongside the children of the club as well as her own, and found it both rewarding and fulfilling. "To see it click and finally makes sense to them is an absolute joy and has been one of the highlights to my journey thus far".  Julie is an Instructor, the club administrator and the main instructor for Fitness Kickboxing.
You will find Julie coaching and refereeing at many tournaments, seminars and camps throughout the year offered through Kyokushin Canada.  Julie fought in several tournaments throughout her career including International Tournaments in Los Angeles, New York and Montreal.
Some of Julie's competitive highlights, achievements and certifications include:
Gold –  Women's Lightweight Open category Calgary Cup in March of 2008
Gold – Women's Lightweight Open category at the 25th Canadian Championships, May 2009
Shodan (first degree black belt) in August of 2013
Nidan (second degree black belt) August 2021
Certified judge in the IKOK-C
Certified Level 1 Fitness Kickboxing Canada Instructor
National Coaching Certification Program (NCCP Level A/B) Certified
Concussion Awareness Training (CATT) Certified
First Aid, CPR & AED