Francois (Fran) joined Banff Kyokushin Karate for a brief time, then family life took him away for some years.  When his young son expressed an interest in doing karate he brought him to our dojo in 2014.  Shortly after that Fran was practicing with us in the adults class.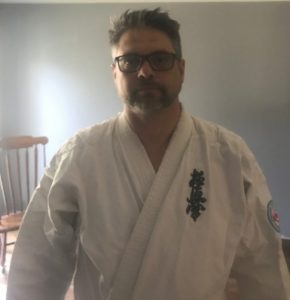 Francois has been an active competitor in knockdown tournaments in the Senior Division, winning several gold medals in the past.  He began assisting with his son's class some time ago and continues to assist with the kids classes.  Fran is a 1st kyu (Brown Belt with stripe).  Francois will challenge for his shodan (black belt) in 2024.
Fran competed in the World Senior Championships in Tokyo, Japan in the fall of 2019.  He is preparing again for this tournament and will compete November 2023.