2019 Banff Kyokushin Karate Championships – Hotel, Weekend Itinerary
OSU
Tournament information is coming along and is linked in our main website menu.  Our preferred hotel partner and weekend itinerary are now posted.  We will have registration for the tournament for officials, competitors and the evening social live shortly.
Thank you in advance for your support!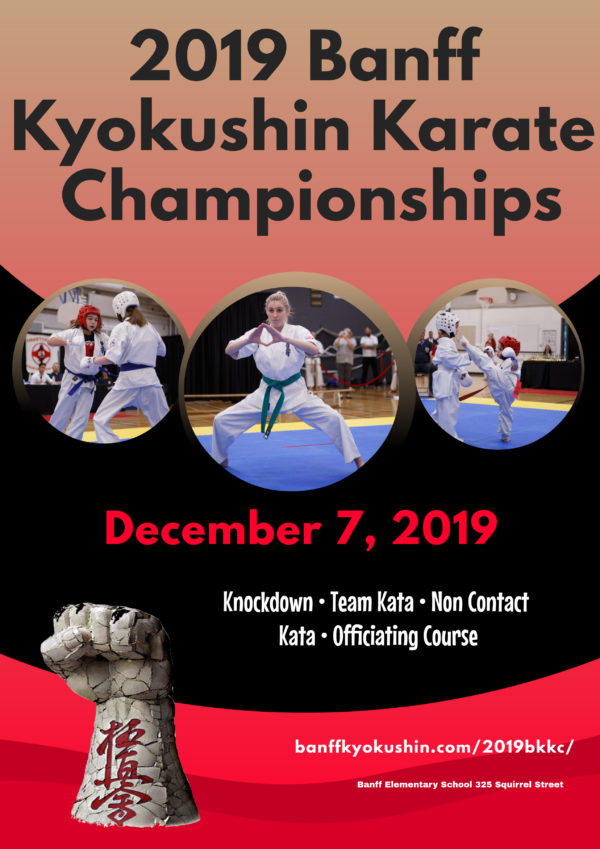 4 Replies to "2019 Banff Kyokushin Karate Championships - Hotel, Weekend Itinerary"
Philip Chong

October 23, 2019 (8:03 pm)

Is there a Corporate Group rate and if so, what is the number for reference please? We reserved our rooms at Tunnel Mountain.

Daymon Miller

November 16, 2019 (8:19 pm)

Hello Philip.
There is no corporate group rate. Only the discount listed on our site.

OSU

October 30, 2019 (1:10 pm)

Our participation

DEAR shian,sensei,sempai, osu, how are you?
we Center Full-Contact. ( Tanzania Kyokushin ,Karate, Association) TKKA. We are so interested. we are eager to attend these events and we are ready for that. as KWF members we request a formal invitation letter for the event schedule on ,7-December-2019. our objective is to get more experiences in the international events. we'd be glad to receive the invitation as early as posible so that we begin important preparation like booking, reservation, visa, acquisition ect.. we know that is a deadline
and the limitation of participants.that why we are asking the invitation letter early..your cooperation will be highly appreciate. thank
sensei joe chief instructor. tkka
teacher ibrahim chief branche
mail. kyokushintzn@gmail.com

Daymon Miller

November 16, 2019 (8:19 pm)

OSU
this tournament is only open to members of our organization, the IKOK-C.
All the best,

OSU
---